This week we launched Quests - meaning the best way to discover web3 just got a whole lot better.
I wanted to share some notes on why we built Quests, and how they take things to the next level for our Users and Customers.
---
First some context
We launched Bounties on Layer3 back in May.
Bounties are a fun way to discover and learn about web3 by completing on-chain and off-chain actions.
As you complete more Bounties on Layer3, you level-up and gain access to more exclusive opportunities and rewards.
And our Users loved Bounties. There's simply no better way to discover and try out new protocols and communities with such confidence and ease.
Over the last few months, we've seen 60,000+ of you use Layer3, often on a daily basis, to complete hundreds of Bounties, take a combined total of two million on-chain actions, all while discovering and (re)discovering the best that web3 has to offer.
Just check out our leaderboard to see these heroes of web3 in action - and look at those daily streaks 😅 - 100+ Layer3 streak gang - we see you!
And we've had huge demand from Customers too - as they've realised how effective Bounties are in reaching, acquiring and retaining high-quality users.
---
So, what are Quests?
Quests are a guided, narrative-driven series of Bounties with a common theme or mission.
They're designed to be a richer experience than Bounties, often spanning over multiple days.
You progress through the Quest by completing its Bounties - earning XP, tokens and NFTs along the way.
Finishing a Quest typically unlocks an Achievement, a record of your progress on Layer3, and often the ticket to more exclusive opportunities.
---
Why we built it
Quests were co-created with our Community and our Customers after dozens of conversations.
On the user side - we found that those already active on Layer3 were only going deeper - but there was more we could do to deliver a richer new user experience. Quests enable that.

The gamified wrap around Discovery on Layer3 is a reason why many of our users come back every day. These daily habits of completing a fresh Bounties, levelling-up, unlocking exclusive NFT rewards and climbing the leaderboard are are already compelling - but all good games need a story and meaning.
With Quests, we and our Customers can provide much more context/narrative around Bounties.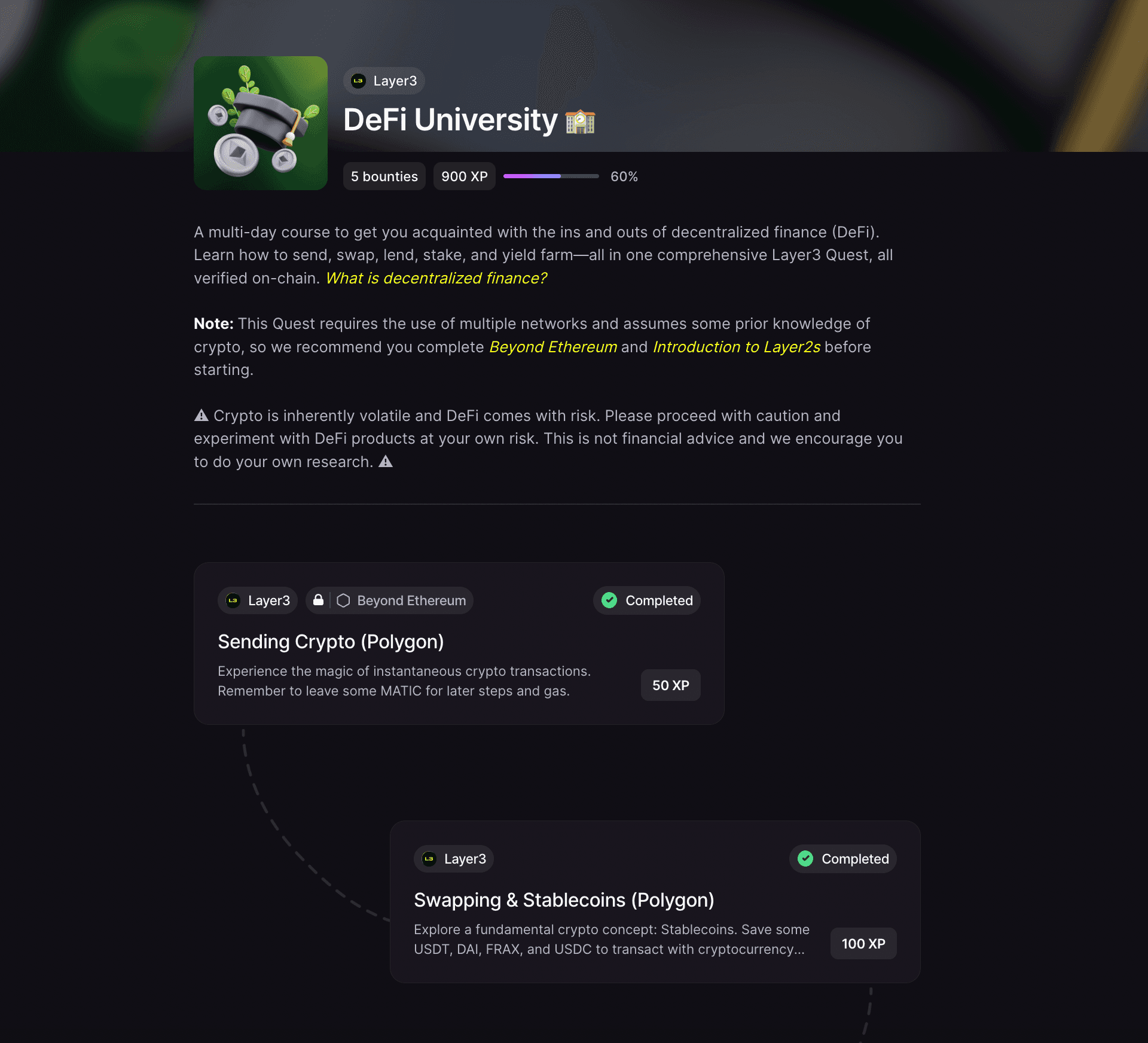 Not to mention, Quests also enable the broader achievement system - which we've been working hard on behind the scenes.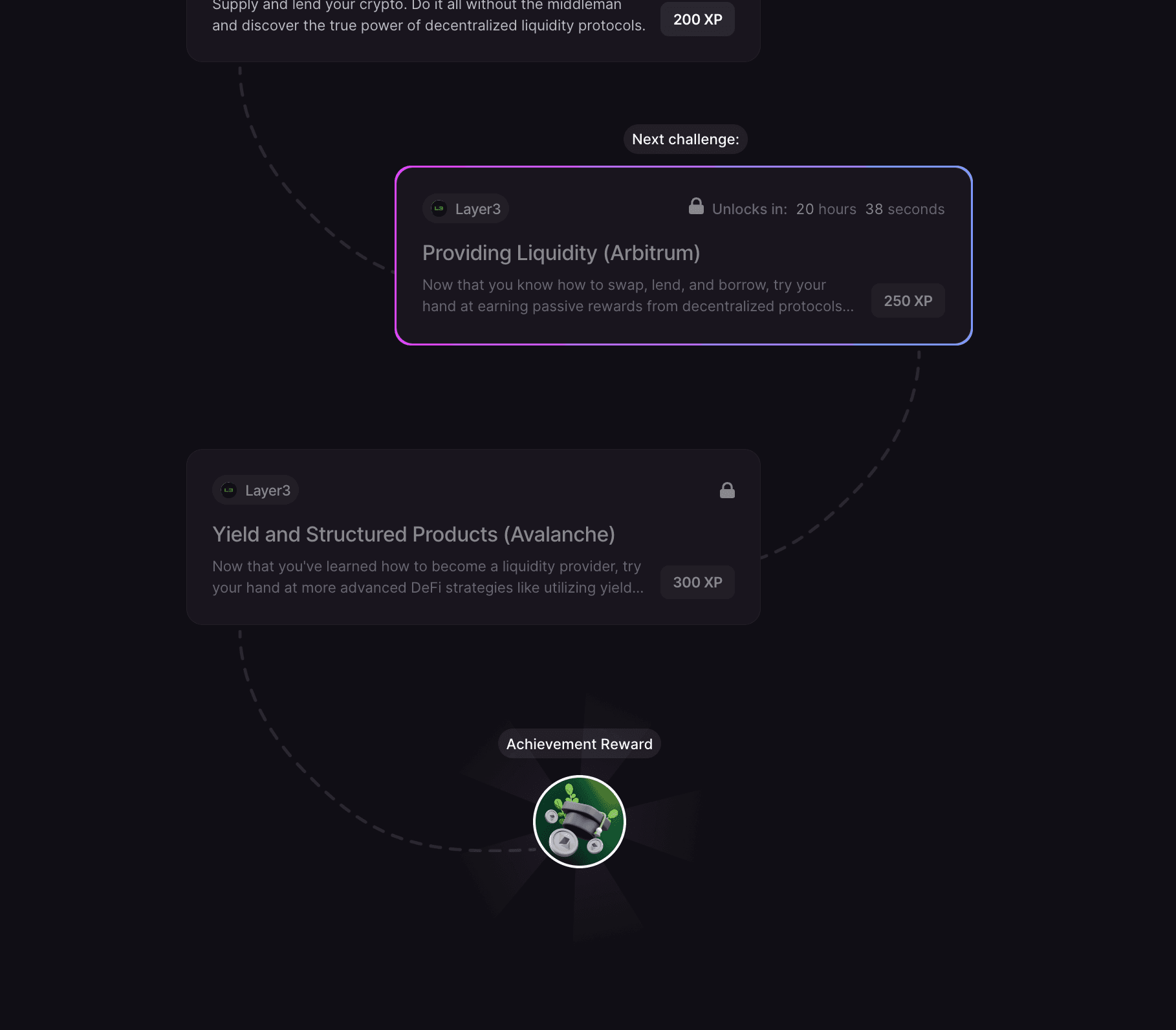 ---
For our Customers

With the introduction of Quests, you now have more tools to tell your story and craft the most engaging, interactive introduction to your product or protocol.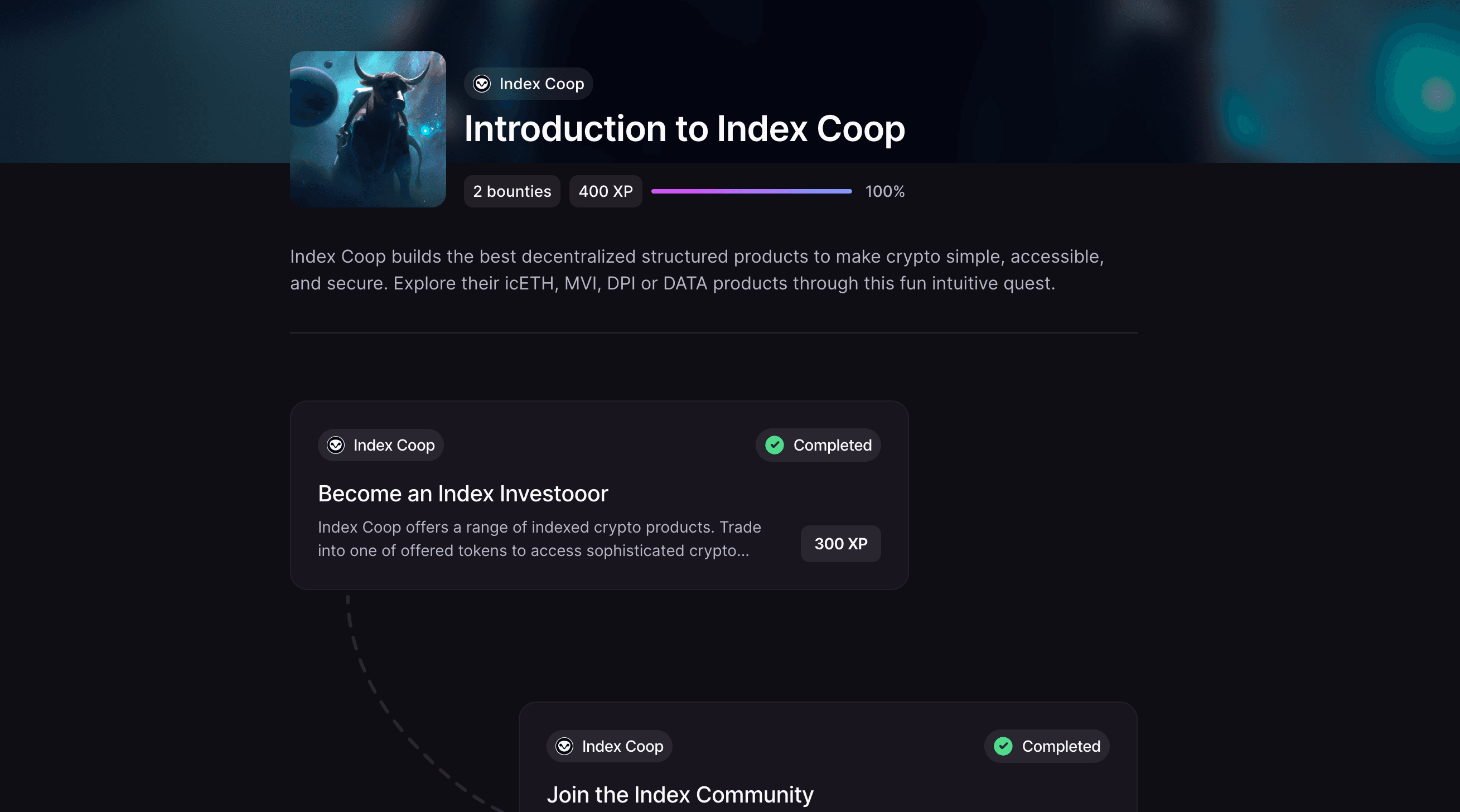 The best web3 growth teams are now using Quests to better leverage the depth of the Layer3 network - using our suite of campaign creation tools to tap into a 100k+ strong community of curious web3 explorers.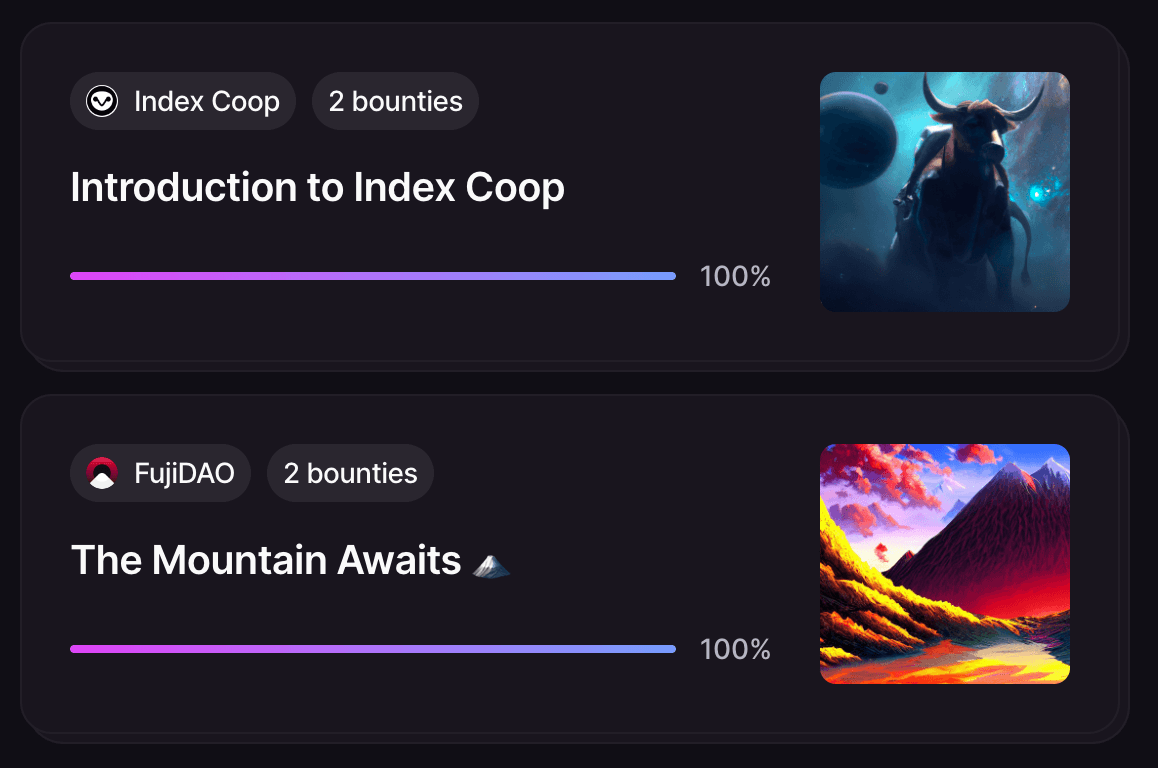 Learn more about growing your web3 Product with Layer3 here.
---
How to get started
To celebrate the Launch of Quests, we've carved out a space for some foundational discovery paths - perfectly suited for those starting out in the space. https://L3.xyz/Intro
New to Layer3, or web3 for that matter? This is an excellent place to get started: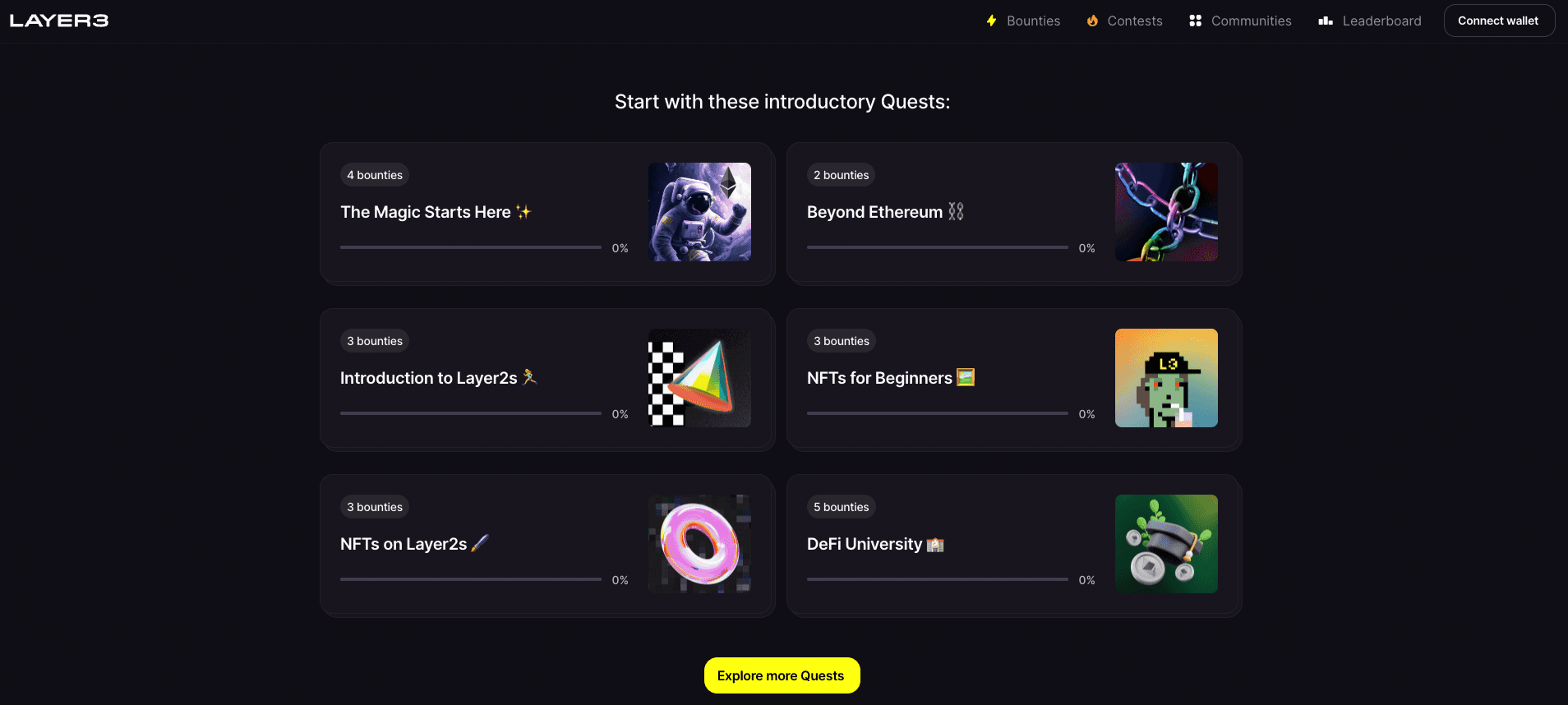 Already a Layer3 user?
Keep an eye out for more Quests dropping into the main feed (check the "Available" tab).
Tip: you can easily keep track of your progress using this handy new "In Progress" tab.

With the power of Quests, you'll never run out of fun things to explore on Layer3.
---
Managing a web3 Product or Community and want to grow using Layer3?
Head over to L3.xyz/grow to get started now!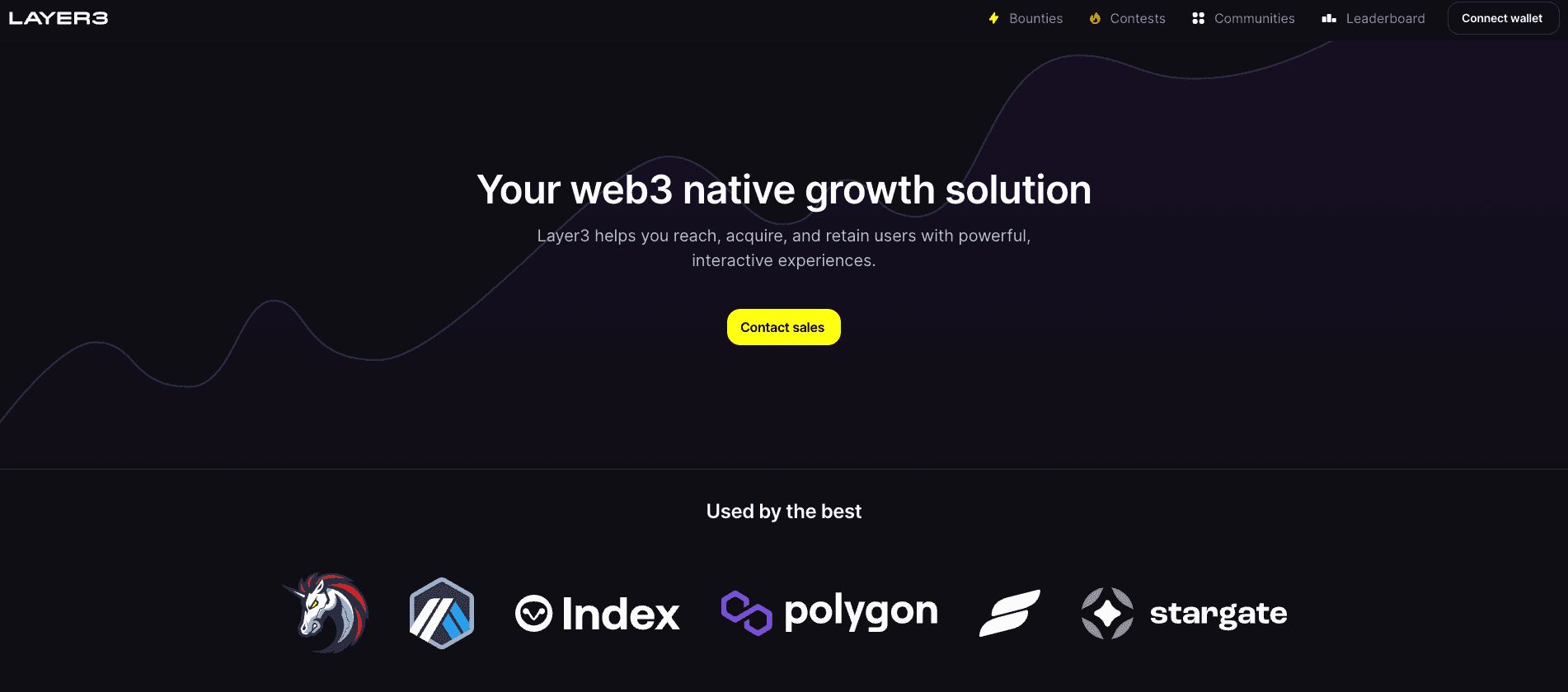 And keep an eye out for some very exciting growth tools coming soon 👀
---
Thanks for reading!