Slingshot is a DeFi application that lets you buy, sell, and swap over 50k cryptocurrencies at the best prices, with 0% swap fees. Slingshot's innovative app combines the performance and ease of centralized exchanges, with the openness and transparency of decentralized exchanges — and they've trusted Layer3 as the primary way to activate and acquire new users for their app.
Slingshot is the web3 way to experience crypto
Slingshot is built on Web3. Instead of signing up for an account and giving away sensitive personal information, you can simply connect your wallet to the Slingshot app and start swapping right away.
For users, this means that you can retain full custody of your assets at all times.
In the app, users can swap over 7500+ tokens and access real time data and charts for each token. Slingshot has also taken cues from web3 social with its global chat feature, where they can connect with users all over the world, as well as its NFT wearables product, where users can buy and customize unique NFT clothing items to customize their Slingshot experience.
Overall, Slingshot has optimized for UI/UX while ensuring seamless order execution, the best prices across various tokens, and a multi-chain experience.
Supercharging growth in a time of uncertainty
Despite market uncertainty in 2022, Slingshot has grown exponentially, and continues to ship powerful new features while building a product that users love.
Over the course of last year, $1.26b in volume was swapped across all supported Slingshot networks. Arbitrum and Optimism, Slingshot's two most popular ecosystems, saw a combined swapping volume of $485m. Overall, 29% of all Slingshot users are multi-chain, and have swapped on at least two of Slingshot's other supported networks (including Canto, BNB, and Polygon).
In addition to releasing multi-chain support and various DEX integrations in 2022, Slingshot has also deliberately made the effort to grow and improve their community with the help of Layer3, creating a solid foundation for exciting product developments to come in 2023.
These future updates include in-app bridging, limit price, dollar cost averaging, chart upgrades, and additional NFT support in Slingshot Wallet.
Rewarding and growing the Slingshot community with Layer3
No growth strategy would be complete without a loyalty program, and Slingshot's strategy is no different. Layer3 is proud to collaborate with Slingshot for their long-term growth strategy encompassing user acquisition, community engagement, loyalty, and growth.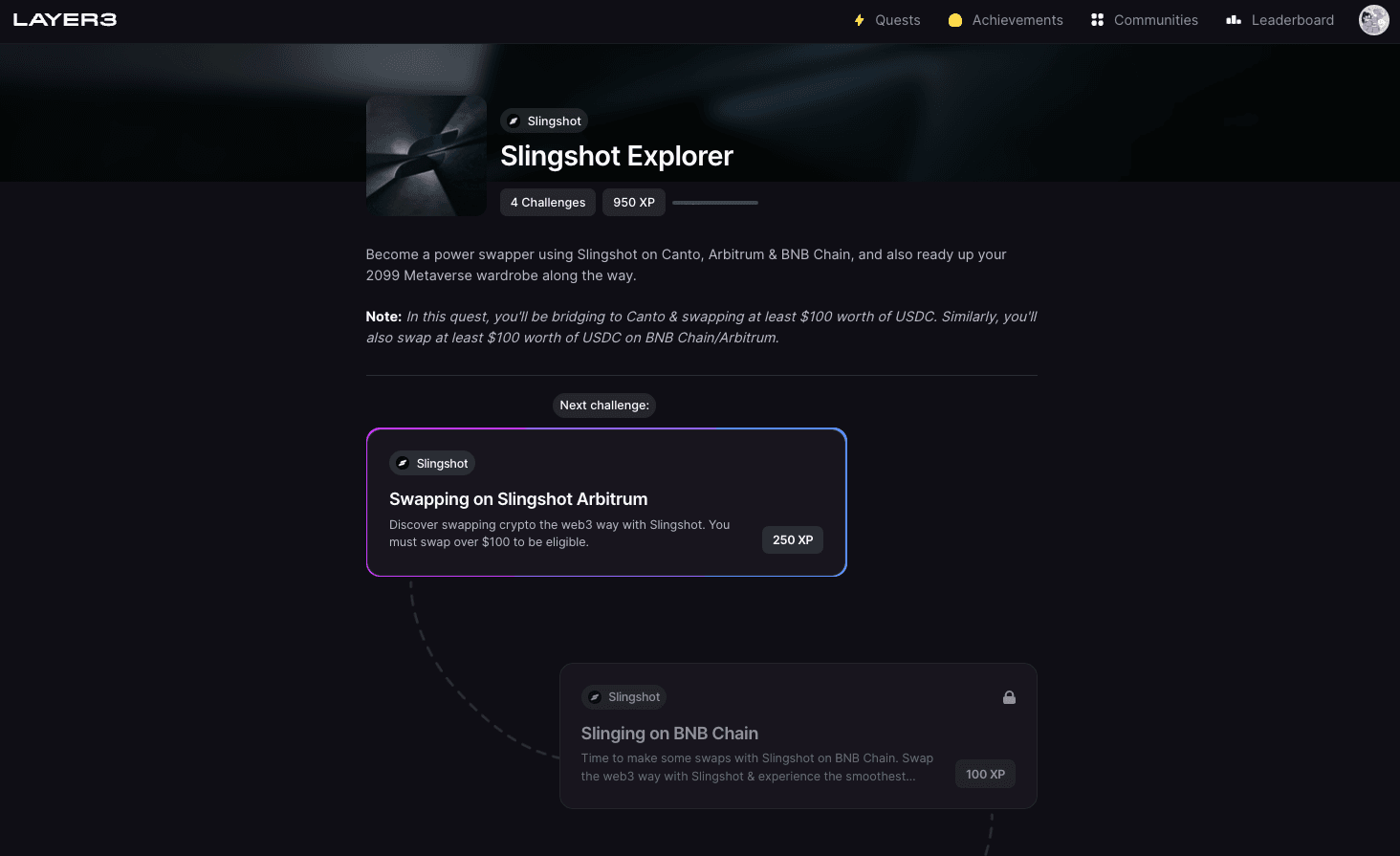 Let's take a look at how Slingshot successfully powers these initiatives with Layer3:
From a period of September to January, Slingshot ran four Quests on Layer3, including:

These Quests drove over 17,000 unique participants in total
Aside from pure user growth, Slingshot was also able to take users on an immersive, multi-week user journey where they could be progressively rewarded for their participation in the Slingshot ecosystem.
Special NFTs using Layer3's gasless minting infrastructure were minted and transferred to Quest participants upon completion, and users could flex these NFT collectibles on the secondary market, in addition to learning how to participate in Slingshot's very own 2099 NFT marketplace.
Layer3 is proud to partner with Slingshot to help users self-custody their assets
As part of our continued partnership, Layer3 is proud to work with Slingshot in bringing the web3 concept of self-custody to a wider group of crypto-native and crypto-curious users.
In the next few months, we'll be working exclusively with Slingshot to launch Quests to bring Slingshot's Mobile Wallet to life. Along with exclusive NFT rewards, Discord Roles, and other amazing perks, Slingshot users can expect more engaging and educational ways of discovering how Slingshot can become their DeFi app of choice.
Interested in growing your web3 product? Get in touch with us, and we'll let you know how we can help.
Layer3 is powering the next generation of web3 companies as the best place to learn, discover, and succeed in web3. We take users through your product via interactive on-chain experiences and educational Quests, and have helped over 40+ customers take 200k+ users through 10M+ on-chain actions.
Get in touch via our page or check out our social links below:
For more on web3 growth, find Layer3 on Twitter, Discord, or Telegram