Introduction
And just like that, we're already a quarter through the year!
The past few months have been a period of some of the biggest changes you've seen on our platform so far—with significant updates spanning design, product, and content. These changes are rooted in our core mission to build an intuitive place for users both old and new to learn, explore, and succeed in web3.
We've spent weeks reimagining what it's like to experience web3 from the user's perspective, and we've honed in on what makes our platform unique.
Discovery in web3 and crypto is broken, and we're on a mission to fix it.
---
Q1: Upgrading the Quest Experience
As the best place for anyone to start their web3 journey, we wanted to completely redefine what it meant to be a user exploring web3 through our platform. We often heard from our community that previous Quests felt like a checklist of tasks they had to complete—a chore, not an experience.
With our new Product Designer Greg onboard, we spent weeks overhauling the platform and conducting in-depth user research to create a more immersive and engaging "Quest and Platform Experience."
As a result, everything ranging from how you discover Quests to the experience of completing Quests themselves has been completely reimagined:
🏡 New Homepage with refreshed card designs and carousels, improved content organization, and a new personalized sidebar

🖼️ Collections to better organize our growing library of Quests

🏷️ Categories to help you find the Quests that are relevant to you, initially corresponding with major ecosystems and chains

⛓️ Chains, difficulty tags, and rewards displayed directly on Quest pages

🎥 Interactive multimedia components such as video in Quests and context cards for a more immersive Quest flow
But wait! That's not all….
It's been a packed three months, and we shipped a looooot! With our February offsite in Joshua Tree, we were able to catalyze a creative (and restorative) experience for the entire team.
We've released some long-anticipated features like multi-wallet support, scored some major ecosystem wins like providing support for Cosmos, Sequence Wallet, and Brave, and fostered amazing partnerships with companies like Slingshot, Trader Joe, Brave, and Gnosis Chain.
Throughout all this, we've also continuously focused on curating the best protocols across web3 for you to learn, discover, and explore!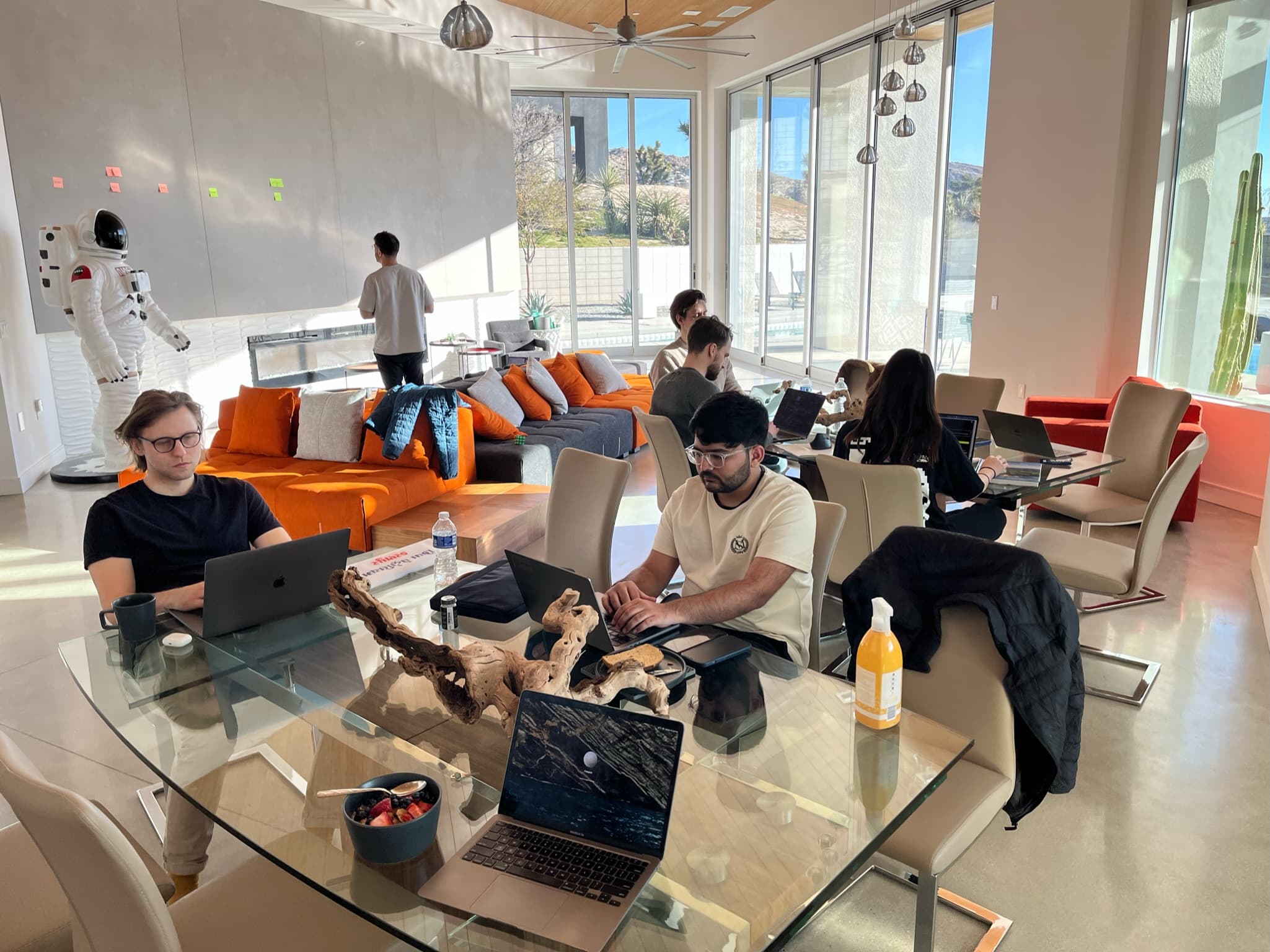 Let's take a deeper dive below:
January
Added Cosmos wallet and action support

Reached 90,000+ members on Discord

Created new onboarding flow for users

Added Sequence wallet support

Launched Quests with ParaSwap, MUX, Stargate

Launched Quests on Canto and METIS
February
Announced new public roadmap

Enabled Gnosis Chain support

Launched new Quest and Platform Experience at our Joshua Tree offsite, including

Collections

Categories

Weekly leaderboard on Explore page

Personalized sidebar

New Quest card designs

New Quest page designs

Multimedia and info card support for Quests

Auto-gated level collections

Optional Quest steps

Attended ETHDenver and hosted gmTrivia with our friends at Dispatch, Zerion

Launched Quests with Stargate, Trader Joe
March
Launched multi-wallet support for up to 10+ wallets

Users can now remove wallets and delete accounts

Website redesign and rebrand

Shipped our refer-a-friend program, where users can refer friends for achievements and XP

Launched Quests with Brave, Gnosis Chain, and Slingshot
In conclusion: The devs and non-devs have indeed, done something
P.S. Don't hesitate to suggest new features via Canny or Discord. For any product suggestions, you can also reach out directly to our Product Manager, Yahya (yahya@layer3.xyz).
---
What's coming next
Layer3 is the best platform to learn, explore, and succeed in web3. To date, we have enabled over 50 customers to onboard 300k+ users, who have completed more than 10M on-chain actions through our platform.
In the next few months, we'll be working on rolling out early access to our premier engagement and retention tool for web3 growth experts: our no-code, modular Quest Builder.
With our Quest Builder, it'll be easier than ever before to create a Quest and launch a campaign, and you'll have a tried and tested toolkit in your arsenal to supercharge your growth goals.
Get in touch via our page or check out our social links below:
For more on web3 growth, find Layer3 on Twitter, Discord, or Telegram